So after a short discussion over at
CropStop
I decided that not only did I want to SHARE my decision to move to a streamlined storage, but also to reduce the space my stamps took up and re-use those bulky wood blocks!
Yes, I know! "Crazy Lisa is at that recycling bin again!" But, you know you want to get that space filled with NEW and FUN embellishments and tools! Plus, if you think about it, what MOM doesn't need adorable art on her fridge held up by fabulously scrappy magnets!
So, the instructions are simple..
1. Drag out those wood mounted stamps.
2. Un-Mount them either by using a regular hairdryer to warm them and soften the adhesive, popping them in the microwave for a FEW seconds or by using that enormous bottle of UNDO we all love!
3. CAREFULLY remove the rubber from the mounting it is currently on.
4. Follow the instruction on the EZ-Mount package (they are super easy- like stick & trim)
5. Ta-Da You have rubber stamps that you can use with a clear block.
Storage options for those NEWLY mounted stamps are varied. I like the DVD size cases that Stampin' Up! sells.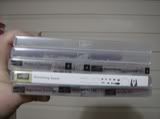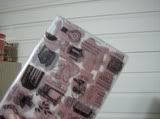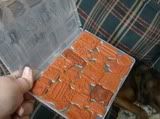 I have friends who swear by the little CD size cases. Others might find the binders with organizser sheets more to their liking.
NOW for the REUSE portion...
Grab the acrylic paint, stamps, embossing powder... anything goes.. a few ideas is all the direction I will offer...
Think about gifting a set of magnets to a mom with a little one headed for a first day at school, or for a mom who might want to "label" the art with one of their kiddos names. ME? I wanted to match my decor in my ktichen.
I do have a bit of advice. Use REALLY STRONG magnents. Mine are the nickle size from walmart and cost about 2.15, but I am swapping those out for a bigger size that is about the size of the block from a "sheet" of magnents.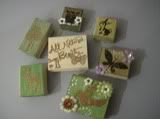 Don't forget...the blog hop is tomorrow and with tips, projects, fun and prizes you won't want to miss it!!