This week's Die'ing for You is inspired by this LO I did in a class at CKC Houston '09 by GCD.It has a cute little pocket to tuck in extra picture or a playbill, stub, etc... and the little transparency cut out is super cute! They used the edge of one of those fab shaped papers to trace the bracket shape, cut out that section and attached a transparency in it's place. Trimmed the paper to about 5"x12" and adhere to the LO by only putting adhesive on the 3 edges leaving the transparency as the top of the pocket. This could be done with the "window" anywhere on the pocket, by tracing a die cut or shape and replacing that section with acetate or transparency.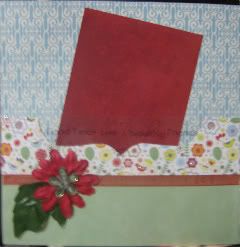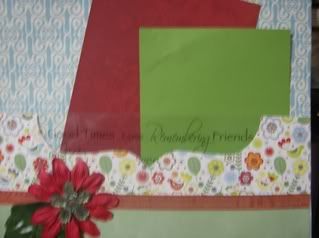 I decided to make a mini album with a transparent section on the cover using a precut journaling block from my stash and a tag card. I used the journaling block to trace the curvy shape about an inch up on the bottom of the front cover, cut along the line and made sure to erase it. Then attach a strip of polkadot printed acetate cut to fit the section I removed from the card with a few glue dots.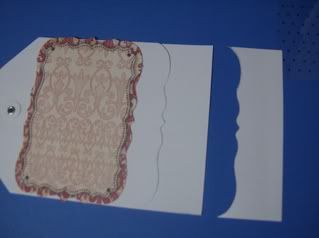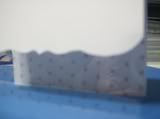 From here you have two options. You can use this as a card, and stamp and embelish, or you can turn it into a mini album. I cut the front/back of the card apart along the fold, then cut some colorful pages (from my scrap stash) the same size and punched a hole int the top to mirror the one in the front. (I used the back of the card as my template.) I added a piece of cord from my stash and a few embellishments. I will be adding pics from a birthday party and giving it to my niece (who is 10). These little albums are lightweight enough to mail and quick and easy enough to make while watching your fav show, all while the cost is minimal and the stash of scraps you've been hoarding is proven to be a good thing!
I have also used an embossing folder as a guide to create a window on a card:
Make sure you visit us over on the forum for fun chit chat and sharing as we scrap our way through each day! Oh, and don't forget we have a hop coming up for National Scrapbook Day May 1st... so stay tuned for details!