The Ink & Stamp Spot for
CropStop
is all about using your stamps to enhance a LO! I was the lucky recipient of a whole ton of unmounted stamps and in that there were a few postage stamp and telegram stamps that I have been waiting to use. So when I came across the shaped paper that is all stamps I knew I had a winning combination!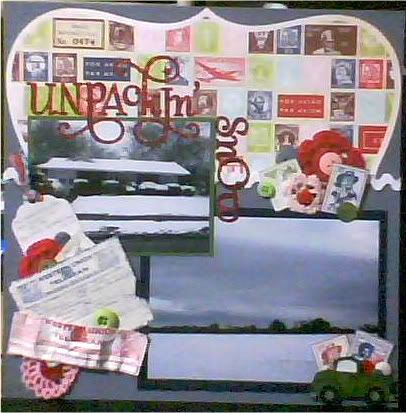 The stamp of the truck was hand cut out, colored in with a white, black and silver Signo pens and "loaded" with buttons and two of the postage stamp images. The large blue telegram image was hand cut, and the smaller was crumpled several times to give it a bit of age and dimension. I added a postage stamp image with the telegram, but turned it, so that the same portion of the image was not seen there as in the truck. I also turned one that is in the upper right grouping. The added touches of those stamps make the LO really come together.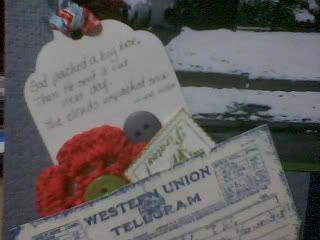 On the tag (I couldn't get a great pic of it) there is a haiku that reads:
God packed a big box,
then He sent it out next day.
The clouds unpacked snow.
I challenge you to dig through your stamp and paper collections and find something that you can tie together with pictures and a title. Stamp on cardstock, or on patterned paper, trim out or cut it out by hand and add it to the LO! That should save you some green on embelishments!
If you have not hopped with us for NSD, make sure you check it out and be sure to post your creation back on the NSD Hop post
here on the CropStop blog
by the deadline. (also, be sure you check out the details at every stop, you could win a RAK from the stop host!)