This week's challenge is to dress up a very casual paper with a really nice paper. I used a bird print by Senic Route that has a light grid print behind the birds with a tone on tone velevt print paper (I forget who created this lovliness, though!) and some vinyl flowers from AC with the paper flowers that match the bird paper and a few primas, and a dressy trim (thanks Vicki, love it).
I also challenge you to use those pics that are not perfect, especially when they are all you have from a specific event.
So go forth and put the pearls on with denim...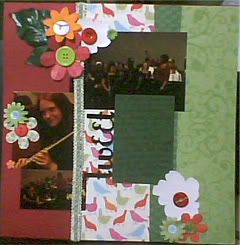 Have fun with it!
Lisa