How-do-ya-do... welcome to another
Ink & Stamp Spot
with
CropStop
!
This LO looks like I used
Timmy's masks
and
Tattered Angel's Glimmer Mist
, but I did not. This is very basic and no spray bottle needed! Anyone can do this!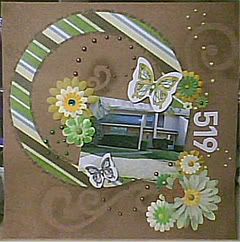 I used some acrylic swirls I had laying around for the mask, but you could cut swirls or any other shape from a Cricut cartridge or die cut. I decided the basic placement of the photo, die cut circle and the swirls. Then slid the photo and ring off the background kraft paper and pulled out my ink pad and sponge. I held each swirl in place and dabbed ink over it until I was happy with the amount of shadow. I then added some of the same shadowing around the edges of the 12x12 kraft paper to give it a bit more depth.
Once I got that all done I attached my pp ring, photo & flowers. I used same large multi-swirl and a large single swirl for both the masks and as a guide when placing the half pearls. I wanted my journaling to disappear, so I wrote around the pp ring.
Imagine with me for a moment how cute a halloween party invite would be with a
pumkin or scarecrow
sponged on! Even a vacation layout with the
car/camper
in the background... subtle additions are easy, fill "blank space" and add that last little oomph that it needs to be amazing!